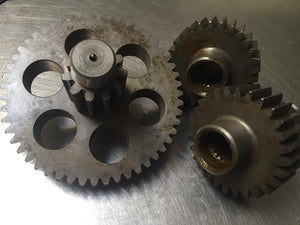 Gigglepin Twin Motor Gear Upgrade
These are the NEW style Gigglepin Twin Motor Top Housing gear ratio upgrades.
The gear material specification has been raised from EN24 to EN36 for increased strength and reliability. The gears are machined accurately for superior meshing, reduced backlash (helping withstand shock-loading) and reduced drag/mechanical losses.
These gears are an easy fit into any Gigglepin twin motor top housing allowing the user the flexibility to pick and choose their gearing dependant on the terrain or event.
Available Ratios: Standard,+15%, +25%, +40%, +50%, +60%
Note: Suits New GP100 Top Housings only. If you are looking for GP80 Top Housing gear sets please contact us directly as they are in very limited supply.