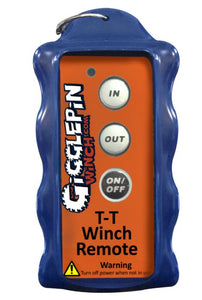 The T-T Wireless Winch Remote from Gigglepin is a rugged, easy to use, cost effective way to wirelessly control your winch.
Large push buttons and a safety ON/Off switch. It's rugged outer boot makes it easy to handle and helps to protect the unit in tough conditions. With a range of 50m, a long life transmitter and ON/OFF light it is great package for those that need wireless control. Works with 12V and 24V set ups.
Available in Twin or Single Pack 

The single pack comes supplied with 1x Winch Remote, 1 x Receiver, 1 x Fitting Instructions and 1 x Lanyard.

The twin pack comes supplied with 2 x Winch Remotes, 1 x Receiver,  1 x Fitting Instructions and 2 x Lanyard.

Features -
• 50m Range,
• Large easy to use buttons,
• Long life battery (included),
• Indicator light for remote operation,
• Rugged case,
•  Lanyard.
 
Product Code:
 G19009 / 
G19010