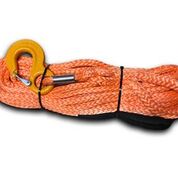 High quality synthetic winch rope, supplied as standard with a 3.15T WWL competition hook, this rope is perfect for all winching needs.
As used by Gigglepin Racing.
SuperRope is available in10mm (30m) 11m (27m, 38m or 45m), 12mm (38m or 45m) and 13mm (38m or 45m).
Breaking Strains are listed in table below.
| | |
| --- | --- |
| SuperRope Width | Breaking Strain |
| 10mm | 9,000kg |
| 11mm | 10,000kg |
| 12mm | 13,000kg |
| 13mm | 14,000kg |
Product Code:
WR1030 - WR1345